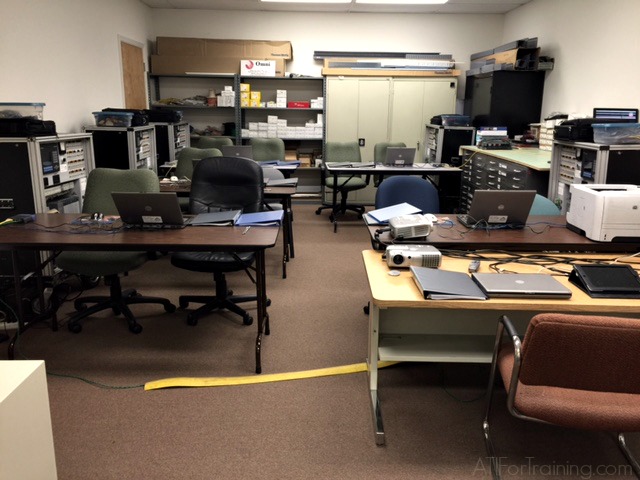 This course is geared toward those who will be working with panelview terminals. During this course, students will learn to establish communication between a panelview and PLC, and practice real world examples of tracing I/O from the panelview terminal through the PLC program. Students who attend this class will also learn how to build screens, and navigate between them. Advanced objects such as bar graphs, gauges, and graphics will help them to build professional screens for the Operator Interface. Students will benefit from this course if they work with the PanelView 300, 300 Micro, 550, 600, or 1000 terminals.
In this course, we will look at real world examples of RSView screens from your plant to see how they work on your own systems. Students who attend this course will then learn how to develop professional screens utilizing th graphics and animation features available in RSView, and set up communications between the RSView terminal and the PLC. During the development, students will also learn how to plan a project, set up the screen layouts (including navigation), and deploy the project for the operators to use.
RSView Level 2 (Working with Data)

This is the information age. Data can be pulled directly from the plant floor, and logged to a database. Data can then be extracted from the database, and published to management in the form of production reports. This course will teach the students how to set up the logs in RSView, then extract the data in an organized manner, then create the reports based on this data. These reports can be in the form of either a web page, MS Access database project, or a Visual Basic application.
FactoryTalk View (RSView) ME Level 1

This 32 hour course is designed to give the students the ability to troubleshoot, create, and deploy Factory Talk&reg View ME projects on industrial terminals. At the end of the class students will understand how to trace objects on the RSView terminal through a PLC program, modify existing objects on any display, and create new objects when needed. We will use the PLC of your choice for the training: SLC-500, PLC-5, or ControlLogix. Students who attend this course will not only troubleshoot objects, but actually configure them so they will have a full understanding of what it takes to make an object interface with the PLC.